Healthy Food Delivered London
If you are looking for a company which specialise in healthy food delivered to your London home or office try The Fitness Chef. With our calorie counted balanced options we are revolutionising healthy eating for busy people across London and offering a convenient solution to the dilemma of eating healthily when you're time-poor. We have built a reputation for providing fresh, healthy nutritionist approved dishes which can be ordered online and delivered within London EC1, EC2, EC3 or EC4 postcodes.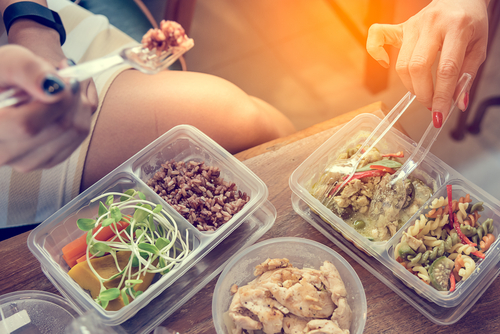 We have teamed up with a chef, expert personal trainer and nutritionist to help you with diet, exercise and physical training advice tailored to your needs. We can advise on the best healthy food options tailored to help you lose weight, become more toned, muscle gain or to accommodate dietary restrictions. Healthy food and balanced nutrition is vital for your body and all its systems to function properly as is exercise. Why you suck the marrow from life so to speak we will organise your healthy food and ensure it is delivered to your door.
It is important to have a healthy balance of protein, healthy fats and complex carbohydrates and to reduce the amount of salt and sugar in your diet. We have a wide selection of healthy food options which cover breakfast, snacks, lunch, refreshments and desserts for you to choose from and have counted all the calories for you. From grilled salmon or chicken, to vegetarian and gluten free options each healthy meal and snack is packed with flavour. We are perfect for healthy food conscious London workers or residents. Even if you have tricky dietary requirements, or looking for a completely personal healthy eating dietary overhaul we can help.
Everything you need delivered to your London desk or home from Monday to Friday –  What could be easier?! We have several healthy food options which are freshly prepared so from Monday to Friday you can be confident you always have something wholesome and healthy to eat. All our standard healthy food menus come in 3 options: weight loss (300 calories) lean (500 calories) or muscle gain (750 calories) so you can make an informed choice. Our healthy snacks and desserts options are all 200 calorie portions so are suitable for anyone.
It has never been easier to order a healthy food from your desk, which can be delivered to your London home or office. We deliver to deliver to London EC2, EC3 and EC4 addresses so checkout our healthy food menus and place your order online or email