Healthy New Year London
After the over indulgences of Christmas, you are you probably craving a healthy start to the New Year in London. Can you think of one New Year resolution that you've ever stuck to? From losing weight to quitting smoking, each December people around the world vow to stick to their New Year resolutions but most fail within the first fortnight. You can read more about how to make healthy attainable New Year resolutions in our blog here.
The Fitness Chef make healthy eating as easy and available as possible to busy London workers and understand that we all make healthy New Year resolutions. We appreciate that producing fresh balanced meals isn't always a priority when you have a million other things to do, which is why we will do it for you! We provide fresh, high quality, nutritionist approved dishes which can be ordered online for you to enjoy, in London home, office or gym.
Our healthy menu options enable you to make some healthy choices based on your fitness goals and what you want to eat. This can be tailored to help you lose weight, become more toned, or to achieve muscle gain. The Fitness Chef can kick start your heathy New Year plans and provide your body the fuel and nutrients needed to reach your goals.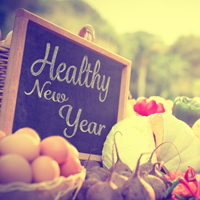 New Year – New You
For anyone looking to start the New Year with a clean slate and improve their health and wellness in the coming year and years to come we have a wide selection of healthy breakfast, lunch, snack and dessert options for busy London residents and workers to choose from and have counted all the calories for you. All our healthy breakfast and lunch menu items come in 3 options: weight loss (300 calories) lean (500 calories) or muscle gain (750 calories) so you can make an informed choice. Our healthy snacks and desserts options are all 200 calorie portions so are suitable for any busy London worker or resident focused on sticking to their New Year resolutions.
Our tailored London healthy food package will provide you with the energy you need to excel at work, in the gym, and improve your personal well-being by using nutrition to improve your focus, productivity and stamina. It has never been easier to start and maintain your healthy New Year plans with options and access to our healthy meal delivery service which can be delivered to your London gym, home or office for delivery to London EC1, EC2, EC3 and EC4 addresses so checkout our healthy food menus and place your order online or Email.