Meal Delivery Service London
Are you looking for a healthy meal delivery service in London?
The Fitness Chef offer a specialist healthy meal delivery service from its London based kitchen.
When embracing a healthy lifestyle, it can be difficult to find the perfect meal delivery service in London. The Fitness Chef offer high quality, nutritionally designed meals for individuals and businesses across London designed to accelerate training and weight loss results. All our meals have been developed using fresh, seasonal ingredients, nutrient-rich superfoods and high protein sources.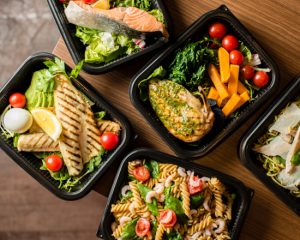 Our healthy meals are cooked and delivered daily from Monday to Friday, so you are covered for breakfast lunch and dinner throughout the week. We have teamed up with an expert personal trainer and nutritionist to help create a personal healthy meal delivery service if required, with customised dietary advice based on your body needs and requirements. Whether you are a beginner or are bored with your current healthy meal delivery service we can educate you on how to get the most from your exercise and meal plans to improve your level of fitness.
Whether you want to lose fat, build muscle, boost strength, or completely reshape your body, we can provide the perfect healthy meal plan for you. We believe our healthy meal delivery service is the best as it has been designed by a personal trainer and nutritionist to include everything your body requires for staying fit, healthy and active. The right healthy meal delivery service will ensure you get all the daily nutrition required to fuel your daily needs and reach your fitness goals.
The best healthy meal delivery service ensures you receive a balance of the right type of fats, protein and carbohydrates along with plenty of fibre and water consumed at the right time of day according to your activities, for example pre-or post-workout or toward a longer-term goal.
The Fitness Chef understand the importance of providing convenient healthy meal delivery service options designed for busy London workers and gym goers. We produce fresh, nutritionist approved dishes tailored to your fitness and dietary requirements which can be delivered to your door or picked up from our Kitchen based in Cullum Street, London
It has never been easier to access our online gym food delivery service and order healthy meals which can be delivered to your London gym, home or office if you live or work out in London EC2, EC3 and EC4 addresses. Checkout our healthy food menus and place your order online or Email.
Please like or follow us on your favourite media channels: